1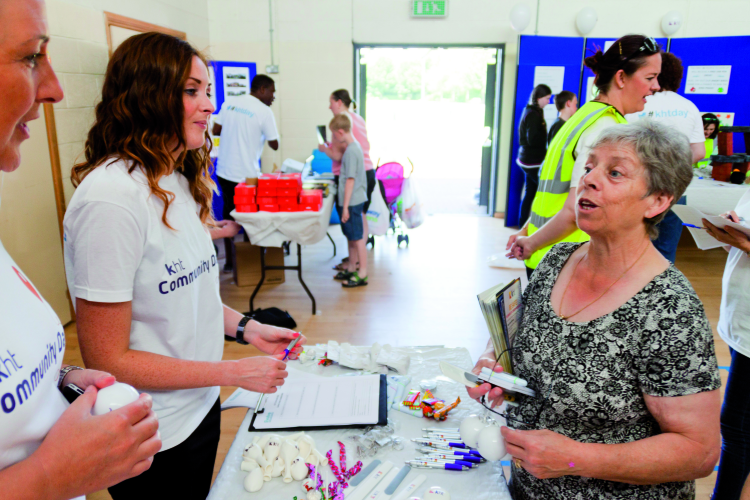 CSR AT FIRST ARK
First Ark has developed a CSR Priorities document and action plan around four key themes: • People (staff): for instance: to utilize 3,000 volunteer hours • Partnerships: for instance: CSR is embedded throughout procurement practices through a campaign called Map My Value • Communities: through a charitable arm, a host of activity is delivered to help residents • Environment: to work in partnership, commission or directly deliver service and initiatives that can help staff and residents reduce their impact on the environment and save money. First Ark participated in several benchmarking exercises including SHIFT (Sustainable Homes Index for tomorrow). It received a silver rating for its operations. Social accounts are produced for all stakeholders and distributed to reflect the group's impact in the communities that it serves. Social accounts are externally audited by a panel.
OBJECTIVE:
To help residents stand on their own two feet and sustain their tenancy.
CONTEXT
In 2009, First Ark launched our tenant reward and support package, "Advantage". First Ark recognised from research and tenant profiling that there were common needs from residents who lived in its properties. These were related to a need to maximize income, save money and have access to support or advice to help them sustain their tenancy. If tenants could sustain their tenancy the community would become sustainable and safer and ultimately more cohesive - this meant that residents could then pay their rent and First Ark could grow as a business and continue to offer a diverse range of services to its tenants. With the onset of welfare reform First Ark recognized a need more than ever to diverse its services and continue to provide a mix of activity to residents who have varying needs. Following feedback, the social housing association continued to evolve its offer and enhance its package, to address the issues it was made aware of. It worked in partnership to develop initiatives that would benefit its residents, around topics like health and wellbeing, financial and digital inclusion and worklessness.
DESCRIPTION OF THE GOOD PRACTICE
To help residents maximise their income, save money and helping them out of the vicious circle of debt First Ark has implemented several measures. The "Advantage" reward and support package was extended in 2011 to include services such as free home energy audits and a discount card to use in local shops. To address the increased needs resulting from the launch of the Welfare reform, the charitable arm of the group was set-up, where the majority of this support activity would operate from. A strong focus was placed on loan shark awareness. First Ark has delivered loan shark awareness weeks and worked with Knowsley Metropolitan Borough Council (KMBC) and the Illegal Money Lending Team (IMLT) throughout 2012-13 to help residents of Knowsley recognise the problem of loan sharks in the borough and direct people to agencies that can help if they are struggling financially. Furthermore, because many tenants do not have a bank account, First Ark has teamed up with NatWest to support the most vulnerable customers to set up a basic account. Two Welfare Benefits Advisors have visited every tenant who has been affected by the benefit cap to provide budgeting advice and ensure that the families are receiving all of the benefits they're entitled to. First Ark also seeks to support local employment. It has taken part in projects which bring the long term unemployed into the business on a work placement, signed a pledge to commit to a 5% apprenticeship intake.
Key results and benefits:
£637k of inward investment attracted to deliver a range of activities around energy efficiency and communities' sustainability
5,000 Knowsley residents with access to the Knowsley discount card, enabling them to save money and encouraging local shopping, thus supporting their local economy
Local food bank supported to feed more than 7,000 people who were in a crisis
Spoke to over 300 tenants about the dangers of loan sharks and promoted alternative responsible lending sources
746 home energy audits delivered, which helped Knowsley residents save approx. £ 34k
In 2013, 28 referrals received from staff to support customers in setting up a basic bank account
238 referrals received to the Welfare Benefits Advisors in 2012-13 and £ 168,493 secured in backdated benefit payments
European Responsible Housing Awards 2014
Modalidad Economic responsibility and sustainability