MAXIMIZING COMMUNITY BENEFITS THROUGH PROCUREMENT AND A RESPONSIBLE BUSINESS APPROACH
1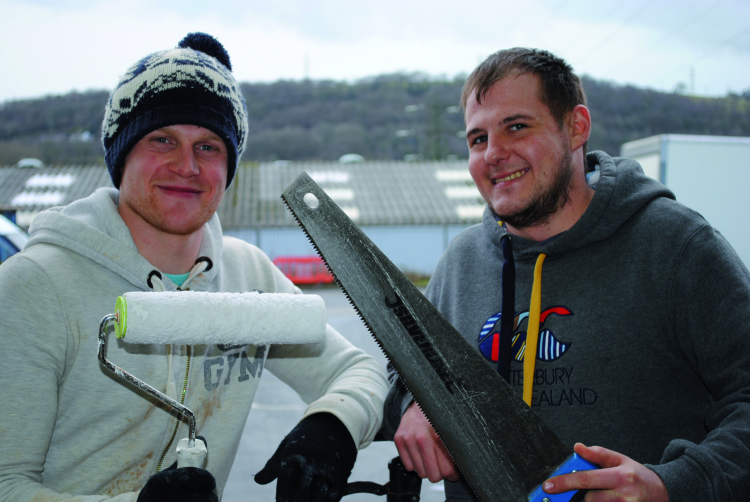 CSR AT RCT HOMES
As a Community Mutual Social Housing Organisation, RCT Homes' approach to Corporate Social Responsibility is four fold:
Developing the Workforce
Supporting our Community
Reducing the impact on Environment
Getting its customers and suppliers in its Marketplace to commit to corporate social responsibility.
These targets are focused on the Business in the Community (BITC) model and linked to the vision and values of the organisation. These values are : Excellent, Empowering, Proud, Bold, Trustworthy, Enjoyable. A key aspect of Enjoyable is the delivery of CSR in partnership with customers and stakeholders.
OBJECTIVE:
To increase the organisation's contribution to local regeneration by supporting local enterprises and local employment.
Context
RCT Homes Limited was established in December 2007 as a Community Mutual to take ownership and invest in 10,200 homes in over 125 neighbourhoods. RCT Homes has long established procedures and processes for the successful delivery of community benefits in advance of the Social Value Act's introduction. The delivery of Community benefits is an integral aspect of the organisation's ethos as a Community Mutual. The approach aims to achieve best value for both the organisation and tenants. This is especially important given the volumes of contracts and expenditure levels incurred by the organisation. RCT Homes' Community Benefit Statement forms part of its Procurement Strategy. Social value is not just about identifying 'extra cash', but about purposefully building the social and economic capacity and strength of communities that RCT Homes has a stake in.
DESCRIPTION OF THE GOOD PRACTICE
RCT Homes is not just a landlord; it is also a major local social enterprise. As well as raising the standard of homes, it is working with its tenants and the local communities to create a sustainable legacy of increased employment and higher skill levels. RCT Homes Rules commit the organisation to supporting 'social inclusion'; driving the economic regeneration and development of the communities it serves by working with other organisations to develop local skills training and generate jobs through the procurement of local labour. To that aim, RCT Homes has developed a number of projects and procurement practices, among which: Supporting local businesses: RCT Homes employed a unique tender process to recruit contractors and suppliers to deliver RCT Homes' programme to bring its tenants' homes up to the Welsh Housing Quality Standard (WHQS). The tender process developed by RCT Homes enabled local businesses to bid for and win major contracts against competition from national companies. In addition, RCT Homes has tied its main contractors into using locally-based suppliers. Creating work-based training opportunities: to support social inclusion, RCT Homes has established its own social enterprise, Grow Enterprise Wales (GrEW). GrEW can tender and win core anchor contracts (such as communal cleaning, and void redecoration) to deliver key services for tenants and communities, while supporting employment and social inclusion through work-based training. Shared Apprenticeship Scheme: mandating community benefits contractually is difficult under RCT Homes' Major Improvement Programme and Maintenance Framework, since companies are not guaranteed any work. RCT Homes has therefore set up a Shared Apprenticeship Scheme. Each time the contractors are awarded work they are contractually obliged to take an apprentice on for the period of the work and pay them an agreed fee. This means that the apprentices will gain experience across a range of contractors (and possibly trades if appropriate). Apprentices will spend time in college to work towards their appropriate qualifica­tion. Merchants will be asked to provide work placements across a range of non-trade posts (warehouse work, admin, driver etc). The whole scheme has been well received by the SMEs as they often don't have the resources (or capacity) to manage a full-time apprentice and welcome overall management of the scheme by the RCT Homes Group (within GrEW). "More than Awards": launched in 2012, this scheme aims to recognise and thank RCT Homes' partners for their contribution (both cash and in kind).
Key results and benefits
68 work placements supported and over 5000 accredited qualifications awarded through GrEW
1454 training and employment placement opportunities provided through GrEW, the supply chain, contractors, and group companies
376 jobs brought into the local economy through the Major Improvement Programme, of which nearly 100 were new jobs, and over 60% of the labour came from Rhondda Cynon Taff
More than 150 days of unpaid time was given by tenants to our procurement process
The Welsh Assembly Government has held up RCT Homes procurement process as a 'model approach' that other social housing landlords can follow to help regenerate some of Wales's most disadvantaged communities.
European Responsible Housing Awards 2014
Modalidad Economic responsibility and sustainability