1
2
3
4
5
6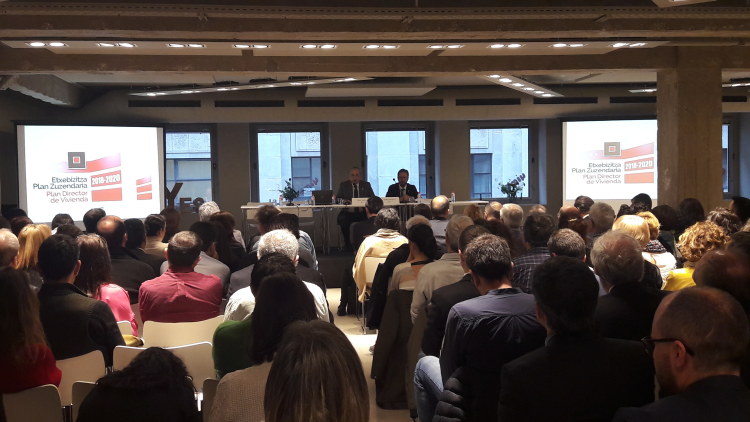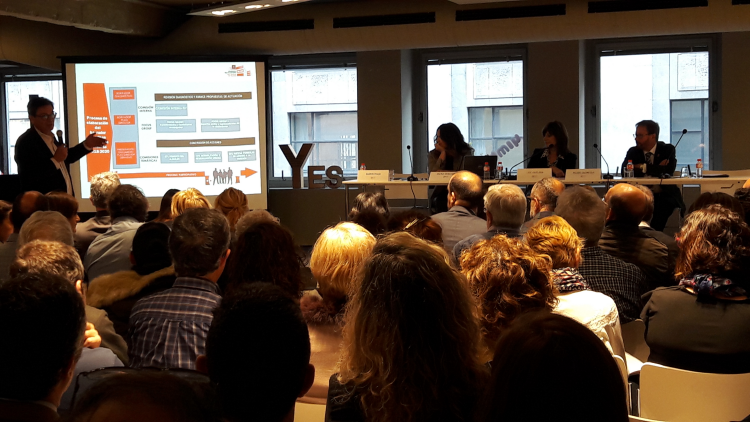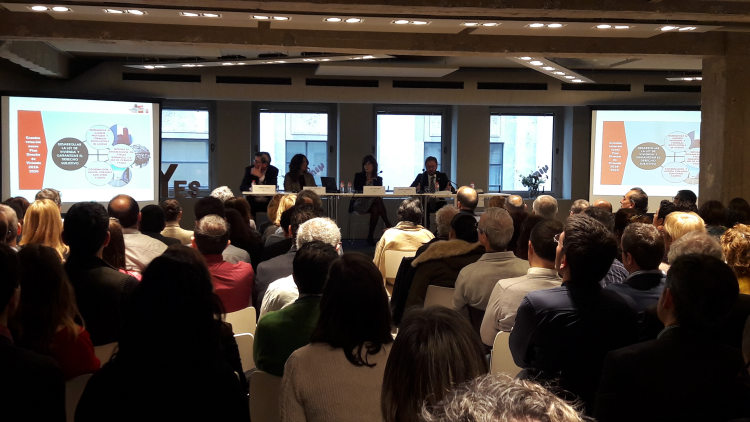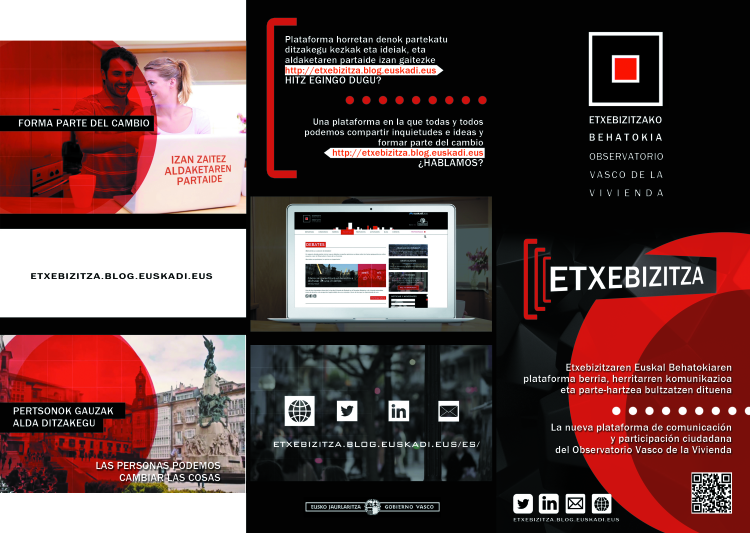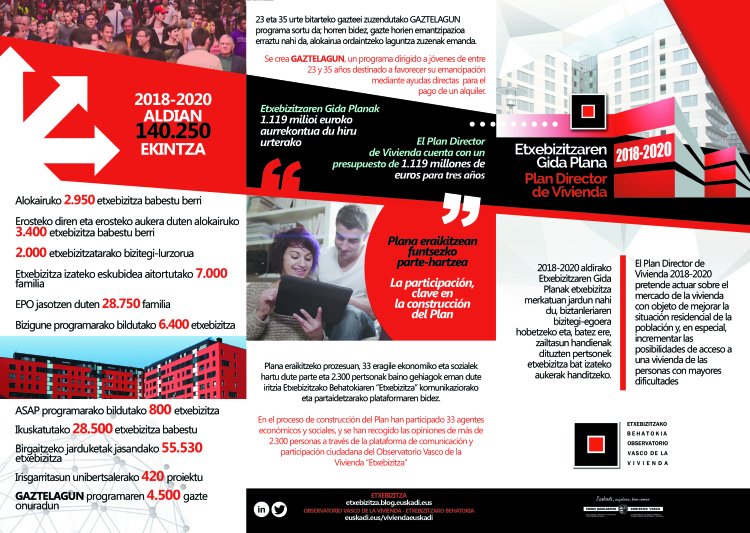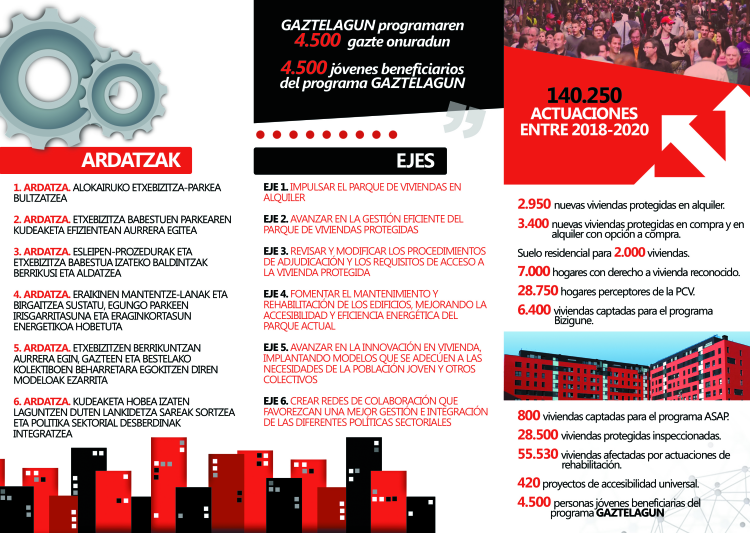 THE BASQUE OBSERVATORY OF HOUSING, WITH ITS ALREADY VAST EXPERIENCE IN PUBLIC POLICY PARTICIPATION PROCESSES, WAS ENTRUSTED WITH THE DEVELOPMENT OF AN INCLUSIVE EQUAL-OPPORTUNITY PROCESS. MUTUAL LISTENING, COLLABORATION AND CITIZEN PARTICIPATION AS WELL AS A CO-DESIGN OF PUBLIC POLICIES BY STAKEHOLDERS, PROFESSIONALS AND BASQUE CITIZENS, RESULTED IN THE MAIN MILESTONES.
THE PROCESS IS STRUCTURED AROUND A STABLE PERMANENT COMMUNICATION AND PARTICIPATION PLATFORM, AND AT THE SAME TIME ACTIVE FOR ANYONE WISHING TO BE PART OF IT. IN PARTICULAR, TO PREPARE THE GUIDANCE PLAN FOR HOUSING, FACE-TO-FACE MEETINGS WERE HELD WITH MOST OF THE BODIES AND ADMINISTRATIONS INVOLVED IN HOUSING IN THE BASQUE COUNTRY.
ALTOGETHER OVER 30 ORGANISATIONS TOOK PART IN THE PLAN DESIGN WITH 6 MULTILATERAL MEETINGS AND 6 BILATERAL MEETINGS.
AT THE SAME TIME, "ETXEBIZITZA", THE NEW CITIZEN PARTICIPATION AND COMMUNICATION PLATFORM OF THE BASQUE OBSERVATORY OF HOUSING (HTTPS://ETXEBIZITZA.BLOG.EUSKADI.EUS/ES/) WAS USED TO OPEN DEBATE SPACES WHERE CONTRIBUTIONS FOR INTERNAL DISCUSSION IN MEETINGS WERE HEARD. SURVEYS WERE SENT OUT TO CITIZENS, PROCESS DISSEMNATION WITH NEWS BULLETINS ON HOW THE PROCESS DEVELOPED AND CHANGES IN THE PLAN VIA PARTICIPATION WERE REPORTED. OVER 2,350 CONTRIBUTIONS FROM CITIZENS WERE COLLECTED BY THE PLATFORM.
ARTICLES WERE WRITTEN IN THE PLATFORM BLOG, ACCOUNTS WERE OPENED ON TWITTER ("@ETXEBIZITZAEJGV" WITH ALMOST 600 FOLLOWERS) AND LINKEDIN ("CM ETXEBIZITZA" WITH ALMOST 1,000 FOLLOWERS), AND NEWSLETTERS INCLUDING ALL THE LATEST NEWS WERE DISTRIBUTED.
BEING AWARE IT IS IMPOSSIBLE TO INFORM ALL STAKEHOLDERS OR REACH EVERY SINGLE PERSON, WE HAVE ALSO DEVELOPED ACTIVE LISTENING TOOLS ON SOCIAL NETWORKS TO IDENTIFY THE CONCERNS AND NEEDS OF PEOPLE USING THESE MEDIA. TO DO SO, WE PREPARE MONTHLY MONITORING REPORTS OF OUR PLATFORM AND THEIR INTERACTION ON SOCIAL NETWORKS. WE ALSO MONITOR DISCUSSIONS ON HOUSING ISSUES ON OTHER NETWORKS (MAIN INTERESTS, SOCIAL INCIDENCE, POLICY, ECONOMY, ETC.)
FINALLY, A DISSEMINATION CONFERENCE WAS ORGANISED ON 23RD NOVEMBER 2017 IN BILBAO TO PRESENT THE NEW GUIDANCE PLAN FOR HOUSING 2018-2020 TO ALL THE STAKEHOLDERS. ALSO ALL THE REPRESENTATIVES AUTHORITIES, ORGANISATIONS AND HOUSING STAKEHOLDERS IN THE BASQUE COUNTRY WERE INVITED TO THE EVENT. OVER 220 PEOPLE PARTICIPATED.
AS A RESULT OF THE DEBATE, A MAJOR NEED TO CREATE A YOUTH EMANCIPATION PROGRAMME WAS IDENTIFIED. THE "GAZTELAGUN" PROGRAMME WAS DESIGNED WITH STRONG CITIZEN PARTICIPATION IN "ETXEBIZITZA". OVER 500 PARTICIPANTS HAVE TURNED THIS PROGRAMME INTO A REALITY.
UNDOUBTEDLY THE MOST IMPORTANT FACT IS THE CREATION OF A STABLE CITIZEN COMMUNICATION AND PARTICIPATION STRUCTURE ON HOUSING ISSUES IN THE BASQUE COUNTRY AND THE TRANSPARENCY OF POLICY ACTIONS BASED ON COMMITMENT AND JOINT-RESPONSIBILITY WITH SOCIETY AND SECTOR STAKEHOLDERS, ENSURING ACTIVE LISTENING IS MAINTAINED NOT JUST DURING PRE-ELECTION CAMPAIGNS.
WE ARE PART OF A NETWORK. AND WE HAVE GAINED ALLIES.
European Responsible Housing Awards 2019
Modalidad Building strategic alliances, fostering community participation
Dirección Donostia-San Sebastián 1
01010 - Vitoria-Gasteiz
Álava (España)