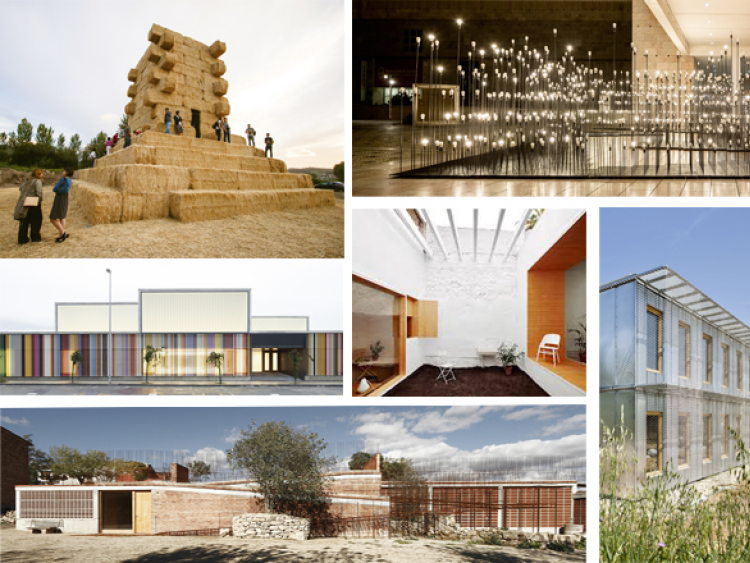 AQUIN-FAD, Interdisciplinary Association of Space Design FAD has called this 2013 the 55th edition of the FAD Awards for Architecture and Interior Design. This year, the jury has selected a total of 27 finalists vying for the prize: 12 in the category of Architecture, Interior Design 4 on 5 with that of Ciudar and Landscape and Ephemeral 6 Intervencions.
The jury of the 55th edition of the FAD Awards is chaired by architect Dani Freixes and its vocal Eulalia Aran, Jordi Farrando, Eva Prats, Nuno Sampaio and Maier Vélez.
The foreman, Dani Frixes, stresses that finalists and selected works "are those that best represent a way to face reality and to respond satisfactorily always in favor of the habitability of spaces, the better living of its users, the sustainability of its construction, providing a new type or improvement of the common landscape. "
The total of the entries were 401, of which 229 correspond to the categría of Arquitecturam Interior Design 81 to 22 to the City and Landscape and 69 to that Ephemeral Interventions.
ARCHITECTURE
1- HOUSING IN SA POBLA
JUAN MIGUEL TIZON GARAU, PEP RIPOLL VAQUER, architects
2-BASIC AND SECONDARY SCHOOL Sever do Vouga
PEDRO SUNDAY, architect
3-SCHOOL CHILDREN OF BERRIOZAR
JAVIER LARRAZ ANDIA, IÑIGO Beguiristáin REPARAZ, IÑAKI BERGERA SERRANO, architects
4-SEU CENTRAL BANC SABADELL
JAMES NÚÑEZ BACH, BACH EUGENI Triado, architects
5-TENT TO RESTAURANT LES COLS
RAFAEL ARANDA, CARME PIGEM, RAMON VILALTA, architects
6-THEATRE THALIA
GONÇALO BYRNE, architect
7-ESPAI TRANSMITTER OF Tumul / DOLMEN megalític sero
TONI GIRONÈS SADERRA, arquitecte
8-57 HABITATGES Universitaris ON CAMPUS DE L'ETSAV
DAVID LORENTE IBÁÑEZ, JOSEP RICART ULLDEMOLINS, XAVIER ROS MAJÓ, arquitectes
9-REMODELAÇÃ REMODELAÇÃO EDIFÍCIO DO DO SEE BANK OF PORTUGAL
GONÇALO BYRNE, architect
10, OLD SCHOOL OF HOSPITALITY IN SLAUGHTER
JUANJO LÓPEZ DE LA CRUZ, MARIA GONZALEZ GARCIA, architects
11 HOUSE FOR THREE SISTERS
JAMES BLANCAFORT, PATRICIA Reus, architects
12- FÀBRICA OF CREATION / CENTRE D'ART CONTEMPORANI. I Fabra I COATS COATS
Francesc BARCARDIT, MANUEL Ruisánchez, architects
INTERIORISMO
13-REFORM ADEQUACIÓ D'HABITATGE ESTUDI
ANNA PUIGJANER, architect
14-MUSEUM CRISTOBAL BALENCIAGA
TOÑO FORASTER MARISCAL, VICTORIA GARRIGA ARIÑO, architects
15-GIARDINETTO
IVAN POMÉS LEIZ, MAX LLAMAZARES VIAÑA, architects
16- INTERPRETIVE CENTER DO DA MOSTEIRO BATALHA - ADEGA DOS FRADES
CRISTINA GUEDES, FRANCISCO VIEIRA DE CAMPOS, architects
CITY AND LANDSCAPE
17- BUILDING PERIMETER OF ENVIRONMENT AND FITNESS TEMPLE
JOSE MARIA SANCHEZ GARCIA, architect
ADEQUACIÓ 18- CAN THE JACIMIENT ROMÀ Taco / AC S. XII. IN "ELS TURONS CREUS THREE OF THEM"
TONI GIRONÈS SADERRA, architect
19- 9 ESPAI PUBLIC THEATRE THE LIRA
RAFAEL ARANDA, CARME PIGEM, RAMON VILALTA, architects
20- PASSEIG MARÍTIM BADALONA
OLGA Tarrasó, architect, JULIÀ thorns, designer; JAMES TAILOR, engineering and environment
21- ESCARAVOX
ANDREW JAQUE OVEJERO, architect
MAYFLIES INTERVENTIONS
22- AGRICULTURAL MONTANHA
NUNO CRUZ, BRUNO GOMES, architects, ANTÓNIO LOPES, designer
ECONOMY 23- PICASSO
SANTIAGO DE LEON MOLINA, architect
24- RAIMON TO VENT THE MÓN
JOSEP BOHIGAS, Francesc PLA, IÑAKI BAQUERO, architects
25- STATEMENT OF JEWELRY
LUISA MARTI, MIGUEL RODENAS MUSSONS, JESUS ​​OLIVARES MARRIED, architects, FRUIT DAVID RUIZ, photographer
26-LEDSCAPE
LIKEarchitects, architects
27- FACTORIA I MAGATZEM DELS REIS MAGS A Fabra I COATS
XEVI BAYONNE, architect
To see the minutes cde finalists: http://www.fad.cat/files/notedocs/1370035049-obres_finalistes_premis_fad_2013.pdf