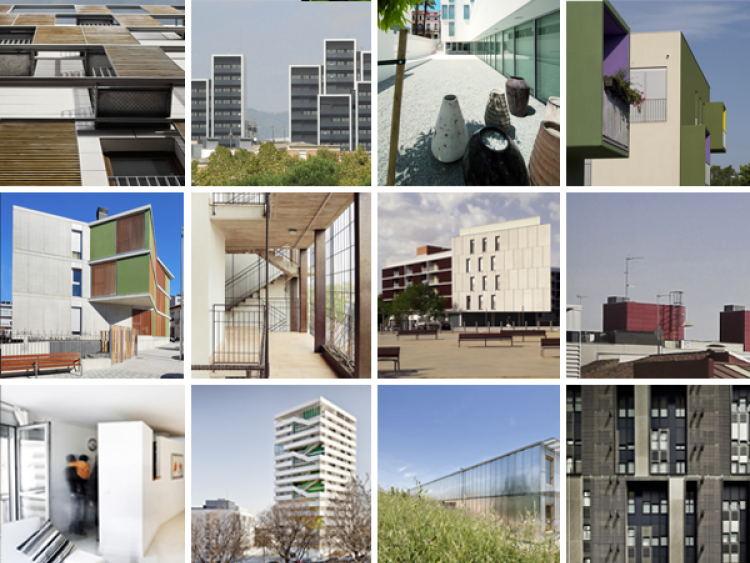 AVS CATALUNYA has announced the finalists for the modality "subsidized housing new construction" of the 2012 edition of the Awards for Social Housing Catalonia.
In this third edition of the awards, the 53 works presented in this embodiment, 12 have been selected as finalists. The projects have been chosen because of the improvement that have led to the urban space where they are located. The jury was particularly impressed by the architectural solutions proposed, the reasonable cost of performance, technological innovations and the use of techniques that respect the environment.
FINALISTS
· Building Alexandra - 168 rental housing adapted VPO. Dotacional public and social facilities in Sabadell.
Architecture: Ricard Perich Duran, Rafael Galvez Millanes, Eduard Freixas Coronas.
· 52 dotacionales rental housing for older people in the square d'Olot Balmes
Architecture: Marius Quintana Creus
· 33 houses in the Mas Pasqual sector Begues
Architecture: Marc Folch Hernandez, Maria Pilar Calderón
· 287 VPO in the Parc dels Pinetons of Ripon
Architecture: Architects Pascual-Ausió
· 14 social housing and municipal equipment in Bisa Can Vilassar de Mar.
Architecture: MMI Gestió d'architecture i paisatge - Batlle i Roig Arquitectes
· Júlia Tower. 77 homes on Via Barcelona Favència
Architecture: Ricard Galiana Nadal, Pau Vidal Pont, Sergi Pons Rosell
· 95 homes in Roc Boronat. Barcelona
Architecture: Sabaté Associats SLP - Joan Sabate Picaso, Neus Auza Samsó
· 111 houses in the street Guipúscoa Terrace
Architecture: Flores & Prats
· Housing college on the campus of the ETSAB. Sant Cugat del Vallés.
Architecture: Data Architecture i Enginyeria SLP - Claudi Aguiló, Albert Domingo and HArquitectes Àrea Productive SLP - Xavier Ros, Roger Tudo, David Lorente, Josep Ricart.
· 80 houses (40 + 40) (VPO) in Salou. Tarragona.
Architecture: Toni Gironès i Saderra
· Tower 77 homes in Plaza Europa, Plot of Hospitalet de Llobregat E.1.0.5
Architecture: José Miguel Roldán Andrade
· 12 houses in the street Antoni Gaudí Granollers.
Architecture: Antoni Bou, arquitectes SLP - Antoni Duran & Grau Bou- and arquitectes associats SLP - Lluis Grau -
The jury decided that the finalists of the other modalities nominations will be published in the act of awards, along with winning nominations
The awards ceremony will take place on July 23, 2013 at 20:30 at City Park Hotel Sant Just Desvern.