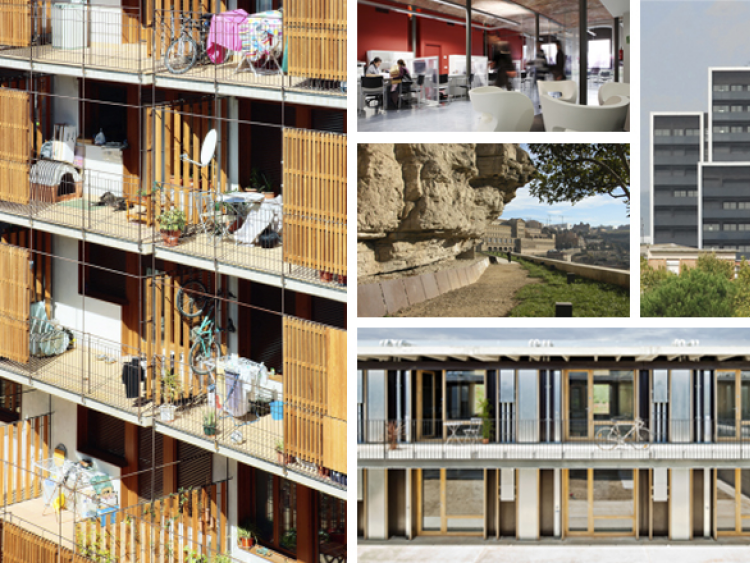 Among the 68 projects submitted to the Premis d'Social Housing of Catalunya AVS 2012 have been awarded six awards and two honorable mentions in the categories: New Construction, integrated action, rehabilitation interventions, research and dissemination, and local housing office.
The jury of the 2012 edition of the AVS has designated the following works as deserving of the award:
NEW AWARD CONSTRUCTION
-Building Of 80 housing units promoted by Foment Inmobiliari Assequible / Funcació Social Work in Salou Architect:. Toni Gironés
MENTIONS NEW CONSTRUCTION
- Mention innovation: Housing university campus the School of Vallès (ETSAV), located in Sant Cugat del Vallès Architects: Data Architecture + i Enginyeria SLP SLP Productive HArquitectes Àrea.
Mention energy efficiency: Building Alexandra de Sabadell, promoted by Vimusa Architects. Ricard Perich Galvez Duran + Ravel Millanes + Eduard Freixas Crowns
AWARD "EX AEQUO" INTEGRATED ACTIONS
-Rehabilitation Of 27 buildings (2008-2012) within the Integral del Vallès Project La Barbera Romànica
-Actuación Urban Renewal Sector Via Sant Ignasi de Manresa
AWARD OF PLANNING AND URBAN PLANNING
-Plan Partial Residencial Santa Coloma de Cervello / Sant Boi de Llobregat promoted by the Catalan Land Institute
AWARD FOR LOCAL HOUSING OFFICE
-Terrasa
AWARD OF RESEARCH AND DISSEMINATION
- "Governs Locals i Polítiques d'Habitatge" presented by management of Serveis d H'abitatge, Urban Planning and Activitats.
AWARD FOR BEST PERFORMANCE IN HOUSE RENOVATED
-Desierto
With the announcement of the Awards Social Housing Catalonia 2012, seeks to publicly recognize the efforts of developers, cooperatives, foundations, agents i sectors working to make public housing policy a model of quality in every way.
For more info: www.avscatalunya.cat
To see all presentadas: http://www.premiosdearquitectura.es/es/Premios/premios-de-vivienda-social-de-cataluna-2012-29/