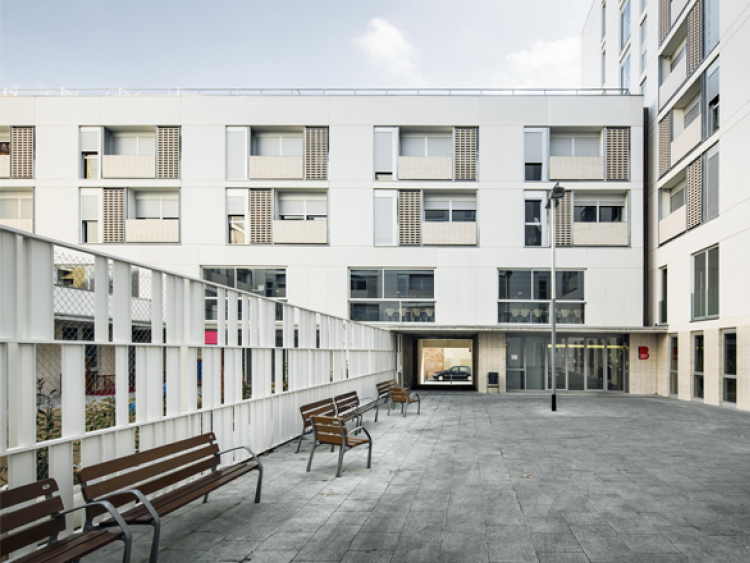 The AVS 2013 Awards, organized by the Spanish Association of Promoters Public Housing and Land, which aims to publicize and reward best practices in social housing in Spain, and have winners.
These are intended to consolidate a space for knowledge sharing and dissemination of architectural proposals, territorial and services; rewarding those works that enable and / or facilitate access to housing by the public.
JURY
- D. FRANCISCO JAVIER MARTIN RAMIRO, Deputy Director General of Architecture and Building. Ministry of Development
- D. JULIO WEAVER BIELSA, Professor of Administrative Law at the University of Zaragoza.
- D. LUIS ALVAREZ-UDE COTERA, Director General of Green Builing council Spain (GBCe)
- Ms CAIRO Roumet, Secretary General of CECODHAS Housing Europe.
- D. Toribio Alfonso Gutierrez, Dean of the College of Architects of Asturias and adviser responsible for cultural affairs of the Superior Council of Colleges of Architects of Spain.
- D. Severino CAPA RUIZ, member of the Standing Committee of AVS and Manager of the Municipal Housing Company of Miranda de Ebro, SA (Viranda) acting as President.
- Mrs. FRANCISCA CABRERA MARCET, AVS Manager, Secretary of the Jury.
- D. LUÍS CORTÉS ALCALA, Professor of Political Science and Sociology at the Complutense University of Madrid.
- D. MIGUEL CONTRERAS MANRIQUE, President of AVS.
In this edition of the AVS 2013 Awards, the jury has awarded three second prizes, five winners (one per category) and a desert prize.
PRIZES AND CATEGORIES
A. AWARD FOR BEST BUILDING IN NEW BUILDING
1st Prize - "154 HOUSES FOR RENT, EQUIPMENT AND UNDERGROUND PARKING ON STREET Navas de Tolosa 3" l'Municipal Board of Housing of Barcelona.
ACCÉSIT - "69 SUBSIDISED HOUSING REPOSITORY" Habitatges Municipals de Sabadell, SA (VIMUSA).
ACCÉSIT - "242 VPO IN SALBURUA, VITORIA" Housing and Land Euskadi, SA (VISESA).
B. AWARD FOR BEST PERFORMANCE IN THE FIELD OF COMMUNITY ACTION PARTNER
1st Prize - "32 HOUSING FOR YOUNG AND OLDER, AND DAY CENTER IN AS PONTES. A Coruña ". Galician Institute of Housing and Land (IGVS)
C. AWARD FOR BEST PERFORMANCE IN THE FIELD OF REHABILITATION AND URBAN REVITALIZATION
1st Prize - "ARI THE REMUDAS" Municipal Housing and Land in the City of Telde (you foster).
ACCÉSIT - "COMPREHENSIVE REHABILITATION OF THE NEIGHBORHOOD OF SAN MARTIN DE PORRES IN CORDOBA" Housing and Rehabilitation Agency of Andalusia (AVRA).
D. AWARD FOR BEST STRATEGY TO FACILITATE ACCESS TO HOUSING
1st Prize - "ACCOMMODATION TO THE LETTER" Patronato Municipal Housing Alicante.
E. AWARD FOR MANAGING THE PARK HOMES FOR RENT
1st Prize - "MUNICIPAL SYSTEM FROM BILBAO evictions" OAL Bilbao Municipal Housing.
F. AWARD FOR DISSEMINATION AND VALUE OF PROCEEDINGS
The jury believes that this award should be forfeited.
For more information:
http://www.premiosdearquitectura.es/es/Noticias/abierta-la-inscripcion-de-los-premios-avs-2013-40.html