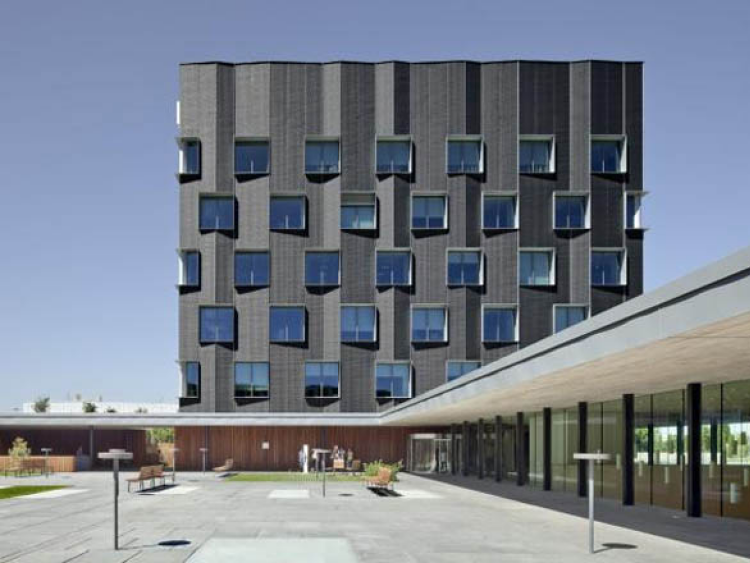 The Jury of the Premis Catalunya Construcció 2014 has announced the finalists who will compete for the award in the four categories of this eleventh edition, whose participation has positively surprised its organizers - Association of Surveyors of Barcelona (CAATEEB), Council of Colleges of Catalonia and Arquinfad -.
Of the 110 nominations submitted by teams and companies responsible for directing, coordinating and project finished works during the years 2012 and 2013, the Jury made ​​a first selection of 41, where explanations of the candidates themselves in the documentation submitted was taken into account, logic and adequacy of the reasoning and justification for the good results.
Finally, the jury has selected 17 candidates as finalists for the award of prizes in their respective categories:
- 5 finalist in the category of Leadership and Management of Work Execution
- Three finalists in the category Health and Safety Coordination
- 4 finalist in the category of Innovation in Construction
- 5 finalist in the category of Rehabilitation and Restoration in Existing Buildings
All finalists will receive a diploma, but there will only be one winner per category, which will be announced on July 11 at Night of the construction, the great meeting of the construction industry, whose location will be the Auditorio de Barcelona.
The occasion will be used to provide the Special Award for Lifetime Achievement and the Audience Award, in which you can participate freely and aims, unlike the other categories, rewarding the building.
FINALISTS
LEADERSHIP AWARD IMPLEMENTATION AND MANAGEMENT OF WORK
- CORPORATE BUILDING TOWER PUIG in Plaza Europa, L'Hospitalet de Llobregat by Josep Maria Bark, Victor Forteza, Mari Satana and Aleix Sampériz / Business: Tècnics G3
- NEW HEADQUARTERS OF THE CATALAN ASSOCIATION OF ECONOMISTS by Gabriel Valeri, Miguel Roldán, Mercè Berengué, Jaume Fleta, Isabel Royo and Anna Jorba / Business: Valeri Consultors, Roldán + Berengué, Projects & Facilities Management
- REFORM "VIOLET" AS POPULAR CULTURE CENTER in Gracia, Barcelona by Victor Forteza Vila Manuela and Jesus Sanchez / Business: Tècnics G3
- HEADQUARTERS OF BANC SABADELL in Sant Cugat del Vallès by Jaume Bach, Eugeni Bach and Jesus Montero Novoa / Business: Bach Arquitectes
- CEIP Sant Marti on the Rambla del Poblenou by Albert Lacasa, Roger Marin and David Ortega / Business: QEstudi 29 Assessorament Tècnic
AWARD FOR THE COORDINATION OF SAFETY AND HEALTH
- CONSTRUCTION OF CEIP BAIXERAS in Barcelona by Monica Pascual / Business: Tresat Safety Coordinators
- MUNICIPAL SPORTS "LES MORERES" in Esplugues de Llobregat by Daniel Roldan and Natàlia Crespo / Business: SGS Tecnos
- EXTENSION OF HOSPITAL PRINCES OF SPAIN (Phase II) in Bellvitge by Michel Rodellas
INNOVATION AWARD CONSTRUCTION
- REFORM OF FRONT COVER AND HOLD "MAS MARTINET" Falset by Pere Llimargas, Mireia Torras, Albert Puy, Miguel Escobar and Sara Pérez / Business: pAS14 Network Architectures and eco-architecture
- FOUNDATION PHASE OF MARKET REFORM OF SANT ANTONI by Pere Joan Ravetllat, Carme Ribas, Olga Schmid, Arnau Teruel and Ivan Perea / Business: Ravetllat-Ribas Arquitectes and Esteyco
jpg "style =" width: 660px; height: 440px; ">
- STC SOFTWARE FOR THE CALCULATION OF CONCRETE STRUCTURES underpinnings by Jordi García, Francesc Moret and Mireia Conesa / Business: Encofrats Alsina
- BRICK-TOPIA by Josep Arm, Marta Domenech, David López and Mariana Palumbo
AWARD FOR WORK ON EXISTING BUILDINGS
- COMPREHENSIVE REHABILITATION OF HIGH OFFICE BUILDING DIAGONAL by Jordi Badia and Xavier Ferran / Business: BAAS Architecture
- RESTORATION AND FITNESS FLAG OF DIRECTORS OF MODERN VENUE OF SANT PAU Nogué Joan, Joan Puig, Lluís Cami and Albert Peñarando / Business: Nogué Onzain Lopez Architects
- RESTORATION OF CASTLE MONTSORIU by Ramon M. Castellas, Eulalia Marques and Joan Antoni Rodon
- RESTRUCTURING OF THE STREET AND ITS ENVIRONMENT ENRAJOLATS in Tarragona by Carlos Brull, Jordi Segura and Joan Alonso Gimenez
- MUSEUM OF CORK PALAFRUGELL by Gloria Piferrer, Santi Orteu and Xavier Farré
More information:
http://www.premiosdearquitectura.es/es/Noticias/convocatoria-de-los-premis-catalunya-construccio-2014-42.html