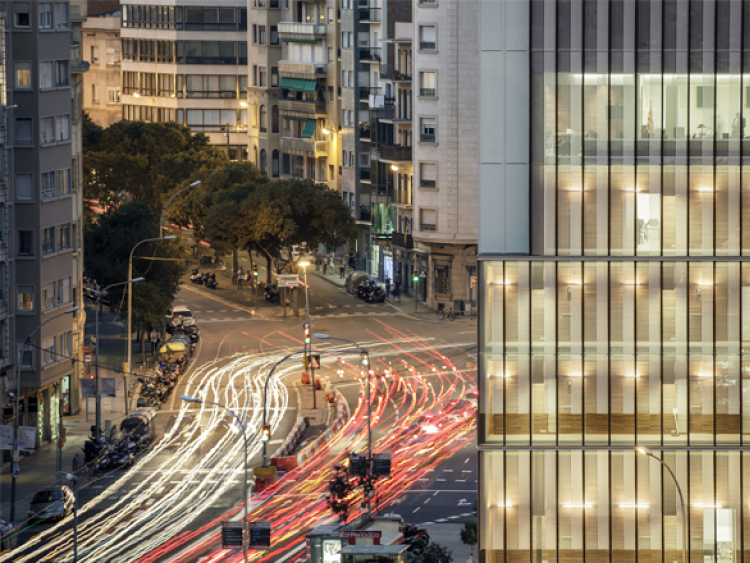 On July 11th Night of the construction was held in the Auditorium of Barcelona, ​​a major event in the building that housed the delivery of Catalunya Construcció 2014 Tubes sector.
Of the 110 applications submitted, the jury had selected 17 finalists that applied for the awards, of which 5 were finally named as winners and 3 have been recognized with honorable mentions.
AWARDS
The jury named a winner in each category except the category of Innovation in construction, in which there were two prizes ex aequo.
ADDRESS OF IMPLEMENTATION AND MANAGEMENT OF WORK
- AWARD: NEW HEADQUARTERS OF THE CATALAN ASSOCIATION OF ECONOMISTS by Gabriel Valeri, Miguel Roldán, Mercè Berengué, Jaume Fleta, Isabel Royo and Anna Jorba / Business: Valeri Consultors, Roldán + Berengué, Projects & Facilities Management
In its verdict, the jury highlighted "the achievement of a brilliant outcome of a building with a strong urban presence that belies the true obstacle course that has meant his execution."
- MENTION: HEADQUARTERS BANC SABADELL in Sant Cugat del Vallès by Jaume Bach, Eugeni Bach and Jesus Montero Novoa / Business: Bach Arquitectes
COORDINATION OF SAFETY AND HEALTH
- PRIZE: CONSTRUCTION OF CEIP BAIXERAS in Barcelona by Monica Pascual / Business: Tresat Safety Coordinators
The jury said "preventive tavern developed in a work that presented a particularly complex by changing circumstances and diversity of risks".
INNOVATION IN CONSTRUCTION
- PRIZE EX AEQUO: STC SOFTWARE FOR THE CALCULATION OF CONCRETE STRUCTURES underpinnings by Jordi García, Francesc Moret and Mireia Conesa / Business: Encofrats Alsina
The jury praised "the innovative attitude of a Catalan company that has managed to establish close cooperation with the university to join the knowledge with the experience and create a calculation tool that facilitates the construction of the project."
- PRIZE EX AEQUO: BRICK-TOPIA by Josep Arm, Marta Domenech, David López and Mariana Palumbo
The jury considered meritorious "updating constructive technique ingrained in the country, the return of brick, while retaining the advantages of strength, sustainability and economy, provides a simple technology, capable of being used with unskilled workers, and while a great formal beauty. "
INTERVENTION IN EXISTING BUILDING
- PRIZE: RESTRUCTURING OF THE STREET "ENRAJOLATS" AND ITS ENVIRONMENT in Tarragona by Carlos Brull, Jordi Segura and Joan Alonso Gimenez
In this work, the jury applauded "the adopted functional solution that fits in an exemplary manner to the historic structure on which it is based and emphasizes their value."
- MENTION: RESTORATION AND FITNESS FLAG OF DIRECTORS OF MODERN VENUE OF SANT PAU Nogué Joan, Joan Puig, Lluís Cami and Albert Peñarando / Business: Nogué Onzain Lopez Architects
- MENTION: INTEGRAL REHABILITATION OF HIGH OFFICE BUILDING DIAGONAL by Jordi Badia and Xavier Ferran / Business: BAAS Architecture
CAREER (SPECIAL AWARD)
- PRIZE: RAFAEL CAREERS PUIGDENGOLAS, technical architect and interior designer. (1933 - 2013)
The jury noted the path "long, intense and fruitful excellent professional with questions that go beyond the daily exercise of the profession and with a strong teaching vocation".
More information:
http://www.premiosdearquitectura.es/es/Noticias/convocatoria-de-los-premis-catalunya-construccio-2014-42.html
To view the finalists:
http://www.premiosdearquitectura.es/es/Noticias/finalistas-11-ordf-edicion-premis-catalunya-construccio-2014-76.html