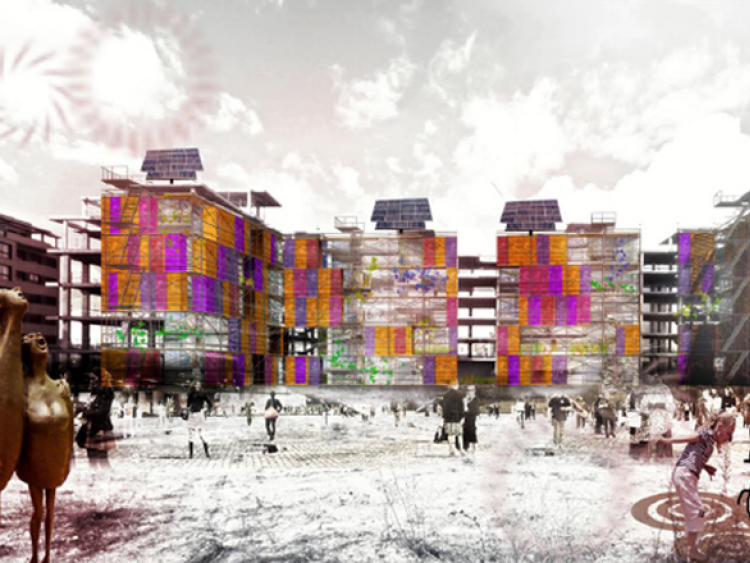 The Konecta (foundation www.fundacionkonecta.org ) within the framework of the emerging art fair JUSTMAD4 ( www.justmad.es ), convened the 2nd Contest Social Architecture Foundation Konecta "ARCHITECTURE FOR A CRISIS". An anonymous architecture ideas competition aimed at projecting a minimum module built with materials, components and technologies that were both economic and environmentally responsible. Its use must be flexible and adaptable at the lowest cost and complexity to any destination, he was able to meet demands related to emergency humanitarian aid or development cooperation.
Inside the Jury were Mariano Aisa (Vice Konecta Foundation), Concha Dominguez Posada (Architect) Enrique Polanco (President of Art Fairs SL), Fuensanta Nieto (Architect) Baldeweg (Architect), Julio Jiménez (Architect) Pedro Feduchi (Architect), Ariadna Cantis (Architect) and Rocio Bardín (Secretary of the Jury).
12 among the 61 projects were selected to finally award a prize and two honorable mentions, along with a selection of 10 videos.
PRIZE
Mellado BEING SOLD Marta Crespo and Xavier Fontanet Adrover
MENTIONS
BECOME A GAP 1 Vilares Cristina Seijo and Angel Sandoval Romo
2nd Tangram Design for Architectural Territories
FINALISTS
ADAPT U of Albert Silverio
Guillem Pons ANTONIGARCIAMARIAFERNANDEZ Ros
FERTILE Juanjo Otero
Martinez David Llorens GIRO3
MAC Lluís Juan Linan
OH HEAVENS! Lucia de Retes Cascales
FOLD Loreto Moreno González
Monica Sanchez Blanco TÚMISMO
VILLA Savoie Josep Fernández Margalef
SELECTED VIDEOS
2 BANK, AiRoom, Carrousel Fantasy, Flexibos, Ortodomus, kokoko, Tutubo, A Compac, umbraculum, Whatsapp
Full details of all projects will be seen in the online exhibition will be available from September 19 to coincide with the opening of the Summa Fair to be held in the Matadero Madrid.
+ Info: www.fundacionkonecta.org / www.justmad.es